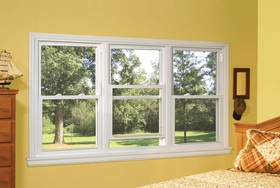 When you see the bright yellow and red of Building 9 in Akron, Ohio, follow your instinct to slow down and stop!  Why?  To save money (in the store and at home) when you take advantage of all the closeout cost replacement windows they have in stock! With the dog days of summer upon Medina County, Ohio and temperatures some days well above 100 degrees it's time to replace those old worn out windows! Think of it this way: you wouldn't turn on the air conditioning and open up all the windows would you? No way! But that is exactly what you are doing with the older windows in your Wadsworth, Ohio or Seville, Ohio home…letting the cool air slip right out the window! No wonder the electric bills are so high! But, when you replace those windows with Silver Line® by Andersen energy efficient windows from Building 9, the heating and cooling savings come pouring into your pocket, not flying out of your Sharon Center, Ohio window!
So, you may find yourself asking, "What exactly is a replacement window?" Well, it is exactly what you think, a window that is installed in an existing window opening. And, as mentioned above, it is time to replace your windows when they become deteriorated, drafty, or simply don't work anymore. Even if you own a newer home, window replacement might be a good idea because of all the advances in window technology! Closeout cost replacement windows may greatly decrease energy loss and even reduce outside noise compared to that of your existing windows.
Now, it is not really a secret that Building 9 has a huge selection of windows at closeout prices. But, what you may not realize is the incredible quality of these windows: Silver Line® by Andersen! Folks from all over Ohio drive to Building 9; they have customers from Medina County and Wadsworth that drive to Building 9 because of the huge savings on brand name windows from a manufacturer they've known and trusted for years! The selection—including single hung, double hung, and sliding windows—is just another reason to shop at Building 9 in Akron. In fact, a couple remodeling an older home in Sharon Center recently stopped by to purchase all the replacement windows in their home, a total of 28, from Building 9! And those homeowners were pretty smart because, not only will they save money when they replace those windows, but replacement windows can increase resale value and energy efficiency in their home, leading to year round heating and cooling savings!
Building 9 has such a huge selection of closeout cost replacement windows that a landlord from Seville came to Building 9 specifically because of the selection. He said with all the different types of rental units he owns, it was nice to see the variety of replacement windows Building 9 has to offer. Okay…wait a minute! There are different kinds of replacement windows! Yep! Replacement windows are available in several materials including wood, vinyl, glass block, and other composite materials. The most common of all are PVC-u and wood windows. If you are not sure what you need, a knowledgeable Building 9 employee can help you determine the best replacement window for your needs! Now remember, when you replace an existing window with a newer more energy efficient one, the window operation might not be identical to the older window. Make sure that when you are replacing an older window that the newer window will meet all of the "code" requirements. For example, smaller bedroom windows must open to allow a person to get out in case of a fire. When replacing that window, make sure the opening is just as large to allow flight in case of a fire. It is always a good idea to check with what the codes are before replacing your windows.
Building 9 hopes you have seen the light when it comes to buying closeout cost replacement windows for your Wadsworth, Ohio home. The light is yellow and it's Building 9 in Akron, Ohio—a short drive from anywhere in Medina County, Ohio, including Seville, Ohio and Sharon Center, Ohio. Stop in for your energy efficient Silver Line® by Andersen windows to begin your heating and cooling savings right away or give them a call at 330-253-1013!