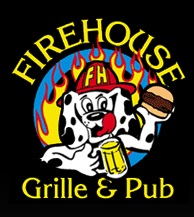 Trying to plan out your holiday schedule in Northeast Ohio can be a drag. After hours of standing in line, fighting with wrapping paper and planning out your holiday feast, you can find yourself lacking some of that holiday spirit. Sometimes you just need a chance to get out and have a little fun. From Breakfast with Santa to a New Year's Eve party, Firehouse Grille & Pub is helping residents within the greater Cleveland, Ohio area celebrate the holidays. Their active calendar is also filled with local nightlife events, thus establishing their Tallmadge, Ohio location as the spot to be for late night fun and live music.
The Firehouse Grille & Pub in Tallmadge will be hosting a Breakfast with Santa on December 16th. Santa should arrive at 8 a.m. on his shiny red fire engine. The event will include an extensive breakfast buffet that will leave you feeling as if you had your own Santa belly. Santa will be available for pictures and he will also be passing out presents for all the children that are in attendance. The price for this event is $7.99 per child and $10.99 per adult. Availability is limited. Either visit the location and reserve your spot or call them at 330.634.9967.
Firehouse Grille & Pub is also hosting a special Strawberry Sweet Revenge Liquor Promotion on December 21st for the Cleveland area. Even if you aren't familiar with the local nightlife events, this is truly one you mustn't miss! Gifted at the keyboard, guitar, saxophone and the harmonica, Walt Wise will be performing your favorite hits from the 40's to today. Also in attendance will be the lovely Sweet Revenge models to help promote the sweet and juicy high-proof Sweet Revenge, which is being deemed the "Original Wild Strawberry Sour Mash". There will be freebies handed out, including Mardi Gras beads, t-shirts, bracelets and more! So don't hesitate to join in the fun and experience the wild strawberry taste of Strawberry Sweet Revenge Liquor.
Among other local nightlife events, Firehouse Grille & Pub will be hosting a New Year's Eve party that will have everyone in the Northeast Ohio region buzzing the next day. Starting at 8 p.m. and for an entry fee of $60 per person, you will be able to enjoy Firehouse Grille & Pub's appetizer buffet and open bar. They will also be offering an extensive menu on their grand dinner buffet and patrons can enjoy great music and dancing while enjoying a few drinks. As the ball drops and the New Year begins, patrons will be served pork and sauerkraut. As the night winds down, if you happen to find that you've enjoyed one too many, Firehouse Grille & Pub will be offering their patrons a free ride within the Tallmadge limits. There is nothing like a bit of good will to prove that they are a restaurant that cares for their patrons.
With several locations throughout the Northeast Ohio area, Firehouse Grille & Pub is a family friendly establishment that ensures quality food and service for all its patrons. But there is more to this establishment than what you would expect. They enjoy providing fun for people of all ages and you can experience this fun if you find yourself in the Cleveland, Ohio area. It doesn't matter if you are big into local nightlife events or if you are looking for a little family fun; their Tallmadge, Ohio location offers a wide range of events from their Strawberry Sweet Revenge event and New Year's Eve party to Breakfast with Santa. For more information on any of these events or to make reservations, please contact Firehouse Grille & Pub at 330.634.9967 or visit their new website at www.thefirehousegrilleandpub.com.