The most well known form of ravioli to most of us in the United States comes from a can bearing the likeness of a certain "chef." You wouldn't be the first to scour the internet to find what exactly is inside those raviolis. Of the Fifty-nine thousand people that have asked the same question, not one has a clue. No one is positive what that particular chef is bringing to the table, but consensus is that the meat is worse than what is found in a hot dog. If you have a craving or a curiosity for what ravioli should taste like, try a pierogi. A pierogi is Poland's ravioli. These handmade raviolis are carefully baked, and can be stuffed with meat, potatoes, cheese, dessert; anything you want. How can you try these handmade, gourmet Polish raviolis here in the Hartville, Ohio; Akron, Ohio; or Cuyahoga Falls, Ohio area? Pay a visit to a true local chef: The Pierogi Lady.
The identity of The Pierogi Lady is no great secret. Her name is Autumn Johnson, and she grew up spending her Sundays with her grandma learning how to make traditional homemade pierogies. She carries on her grandmother's tradition of gourmet, handmade pierogies on Edison Street in Hartville.
A pierogi, much like the first half of the name suggests, is essentially a mini pie. Dough is usually prepared a day in advance. The dough is usually boiled like fresh pasta dough and then baked. After the dough is prepared, hearty helpings of any filling you want is placed inside. Your filling options are unlimited; you can choose potatoes, meats, fruits, chocolates, and even vegan options. The Pierogi Lady offers original Polish inspired pierogies and specialty pierogies, such as the Thanksgiving Dinner Pierogi packed with mashed potatoes, turkey, dressing and gravy or the Candy Bar Pierogi loaded with chocolate ganache, peanuts, and caramel. A vast array of vegan options and dessert options are also available.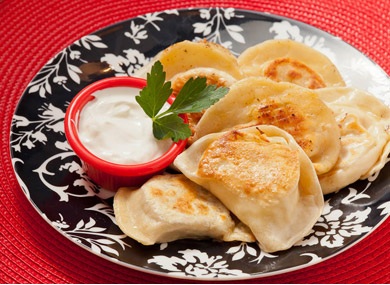 The Pierogi Lady's creations are perfect for a dinner for one or a large get together. You can visit The Pierogi Lady in person or you can order in advance. You can browse the selection and order on The Pierogi Lady Facebook page. After you chose which pierogies you would like to order, you can choose to have them picked up or delivered. That's right; you can have your pierogies delivered straight to your door! With a minimum purchase of thirty dollars, your delivery is free of charge.
Try ravioli as it was intended to taste, and you will wonder why you didn't do it sooner! Don't waste your time trying to figure what you might be eating: count on the quality ingredients provided by a true local chef, instead. The Pierogi Lady offers handmade, gourmet, Polish raviolis. Conveniently located inside Hartville MarketPlace—a quick trip for residents of Hartville, Ohio; Akron, Ohio; and Cuyahoga Falls, Ohio. The next time you want to try ravioli as it was intended, visit The Pierogi Lady online at MyPierogiLady.com or call 330.690.2129.