Have you been searching for an indoor sports facility for a family game night or sports league to join? WhirlyBall & Laser-Sport in Cleveland, Ohio has just the place for you. Two action packed games in one indoor facility for you to enjoy with your family and friends. Finding a year long league to join in Akron, Ohio or Cuyahoga Falls, Ohio can be hard to find, especially due to northeastern Ohio winter weather restrictions. WhirlyBall & Laser-Sport is open all year to accommodate your sports league needs.
WhirlyBall & Laser-Sport is Cleveland's hottest indoor sports facility. WhirlyBall is a thrilling game that combines the concept of basketball with the speed of bumper cars. The object of the game is to shoot your ball into your team's basket by driving down the court at racing speeds. Scoring isn't as easy as it sounds; there are penalties and challenges for ramming your opponents, not wearing a seatbelt, pinning, and holding. Each of these penalties reduces your points by various point values. If you want more of this addicting, adventure ride you can join a league and battle it out against the best of the best. The same rules apply to leagues as individual games. You must arrive ten to fifteen minutes early to receive your formal training. The experienced staff at WhirlyBall & Laser-Sport will help you learn how to navigate your car. Pulling the driver stick towards your body launches the car forward and a three hundred and sixty degree turn sends you reeling backwards. Left turns takes you right and right turns take you left in this thrilling, head spinning game. To join this sports league you must pay a registration fee of $50.00 before your league will be able to be part of the tournaments. Within a league ten to sixteen teams of five players each will play two games one night a week. A double elimination tournament will be played at the end of each league session, keeping this fast paced game highly competitive.
If you want to make a night of it, you can also join Laser-Sport's league. Laser-Sport is located in the same building, allowing you to have a full family game night. Laser-Sport transports you to a fantasy land where you must be the first one to shoot your way out of the live-action laser adventure. You must score as many points as you possibly can while deactivating your targets. Laser-Sport clouds your vision with swirling fog and pulsating music. You can outrun your opponent through the spacious sport arena, taking cover on the ramps and balconies. Once you have been hit, your light-weight vest vibrates. Giving you just enough time to try and find your attacker and shoot back before you are hit again, giving you enough time to take out your attacker. Party areas and catering are available to your team as well.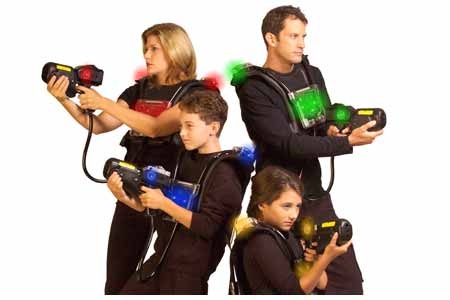 WhirlyBall & Laser-Sport offers Cleveland, Ohio; Akron, Ohio; and Cuyahoga Falls, Ohio the perfect year round sports league opportunity. With this indoor sports facility, you don't have to schedule your games around the weather; you can schedule them around you. Whether you are looking for a league to join or for a fun family game night out, WhirlyBall and Laser-Sport provide the best of both worlds. You must register with WhirlyBall and Laser-Sport in advance to play. To do so call 216.591.0707 or visit their website, whirlyballcleveland.com